In May 2017, the ADIG Master's and PhD students of the Academy took part in a week-long Educational Trip to Geneva, where they participated in a series of events, as part of a carefully developed programme of learning and networking.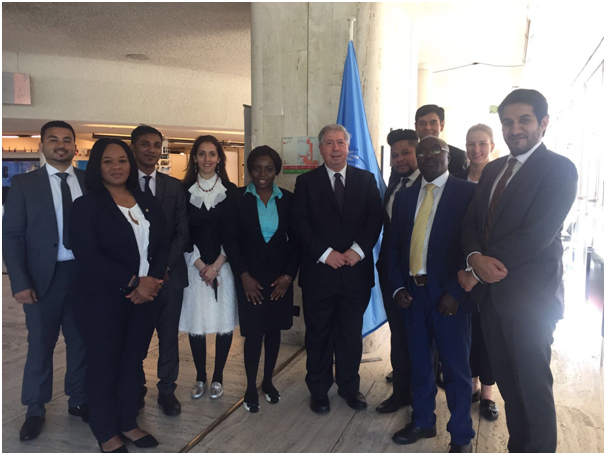 One of the highlights of the trip was the group's attendance to the UN Conference for Disarmament, where they were able to observe the Conference for Disarmament Plenary Meeting in the Council Chamber. Other highlights were the visit to the Geneva Centre for Security Policy (GCSP), where they had a Briefing on Responsible 'Arms Proliferation', by Mr Marc Finaud, Senior Programme Advisor on the Emerging Security Challenges Programme; and the visit to the Permanent Mission of Canada, where they had the opportunity to take part in an interactive Q&A following presentations on Canada's policy and multilateral engagement related to migration, multilateral trade; humanitarian aid, and disarmament. The students also had a guided tour at the United Nations Office at Geneva. They were also hosted at The Geneva School of Diplomacy and International Relations for talks and discussions on experiences of a Swiss Ambassador to the UN, and on multilateral diplomacy; visited The International Committee of The Red Cross; The United Nations Refugee Agency UNHCR; and the Delegation of the European Union to the UN, where they had a special briefing by the Press Officer Ms Lucie Samcova.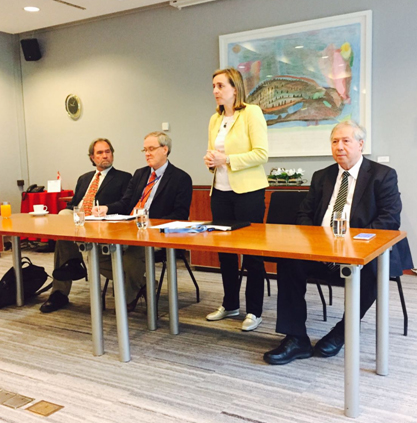 Students were accompanied by Prof Nabil Ayad, Director of ADIG, and other members of staff, as well as the visiting contributor and organiser Prof Daryl Copeland, Senior Fellow at the Canadian Global Affairs Institute; Former Senior Advisor, Strategic Policy and Planning, Department of Foreign Affairs and International Trade, Canada. The trip was supported by HE Ambassador Sameh Aboul Enein, Ambassador and Permanent Representative of League of Arab States to the UN, Geneva; Assistant Foreign Minister of Egypt for Disarmament, International Security and Peaceful Uses of Nuclear Energy.
The trip was a huge success, and received highly positive praise and feedback from students:
"The educational trip to Geneva was an eye-opening experience for me. The first-hand opportunity of being able to listen and watch conferences at the United Nations was an incredible experience. The trip provided me with a practical understanding of the subject of diplomacy", reflected Anush, a student at the MSc Security, Peace-building and Diplomacy programme.
Andre, another student in the same programme, stated: "The value gained from this trip is one which I cannot articulate into words, but [can acknowledge] through my actions going forward. I truly do thank you for reigniting that drive within me, and consider myself beyond lucky to be part of the Loughborough family.
Siobhan from the MSc Diplomacy, Foreign Policy and Statecraft programme, wrote in an email of gratitude: "The trip to Geneva was one of the greatest highlights and learning experiences of my entire MSc course… I have a new-found appreciation for the United Nations and also Geneva as an international capital".
Baharak of the same programme similarly wrote: "We feel deeply privileged and honoured to be given this unique opportunity…The knowledge gained during this very intense, yet highly informative period, will certainly add value to our future endeavours in the field of diplomacy and international affairs".
"First all, it has been a pleasure to have attended this unique experience that, on the one hand, has given us the chance to enrich our knowledge on the realm of diplomacy. The official institutions we have had the opportunity to visit have provided us with significant and relevant information of how theory and practice is combined in real working situations, both in very formal conferences and also in more informal encounters. On the other hand, this trip has enabled us to strengthen bonds among fellows and academic staff, through interaction and sharing of perspectives". Nuria Lastras
"Thank you for giving us all the opportunity to enhance our experience in the real world of diplomacy. The trip was well organised, everything went smoothly and almost all the sessions were quite informative and related to what we learnt in class. I would like to thank Fatmah for all her hard work she's put into this trip " Waqas Ali
"The educational trip to Geneva was an eye-opening experience for me. The first-hand opportunity of being able to listen and watch conferences at the United Nations was an incredible experience. The trip provided me with a practical understanding of the subject of diplomacy. The entirety of the trip was very well planned and structured. I would like to thank all the staff and professors that guided us and organised this experience for us". Anush