Diplomatic Practice and consequently, Diplomatic Training, must keep abreast in our rapidly evolving world.
I founded the Academy of Diplomacy and International Governance at Loughborough University London and was the Director from November 2014 until October 2017 - Activities and Achievements until October 2017 http://geodiplomatics.com/academy.htm
My career has been a study in questioning conventional approaches while embracing global education. My greatest success has been the integration of theoretical and practical concepts using innovative and creative approaches. When I developed the Diplomatic Academy of London (DAL) at the University of Westminster and later the London Academy of Diplomacy (LAD) at University of East Anglia, London Campus, as well as their satellite centres in Paris and Rome, I created a new model for university education for professional diplomats, other government officials, and graduates aspiring for an international career.
My academic and professional experiences over three decades have culminated in the establishment of the Academy of Diplomacy and International Governance at Loughborough University in London. The aim of the Academy is to offer a suite of Master's Degrees in Diplomacy and related disciplines.
The Vision of Geodiplomatics
This site is dedicated to Sir Peter Marshall, KCMG, who is recognized as the master of geodiplomatics. In his book entitled Positive Diplomacy, as well as in his lectures and seminars, he discusses the evolution of diplomacy. He describers amajor shift in the practice of diplomacy towards a public model which he referes to as geodiplomatics.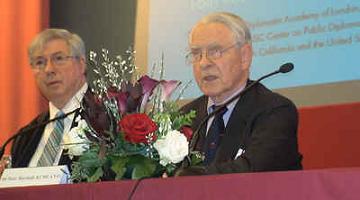 [l-r ] Professor Nabil Ayad and Sir Peter Marshall Introducing the concept of 'Geodiplomatics' in the context of the conduct of International Relations, at the 16th Diplomatic Academy of London Symposium entitled Transformational Public Diplomacy: Shaping the Future of International Relations, May 2008
Diplomacy is a business, a multinational business. It is as dynamic as the policies of the country it serves. If it gets out of tune with the realities of the day. it will fail.

But it cannot afford to follow changing fashion light-heartedly. It must temper experience and accumulated expertise with imagination and receptiveness. Sir Peter Marshall . The Dynamics of Diplomacy

This site is also dedicated to many people with whom I have worked both academics and administrative staff. These include Senior officials at the University of Westminster for supporting the Diplomatic Academy of London, including: Professor Colin Adamson-Maceda, Professor Terence E. Burlin, Dr. Geoffrey Copland, Professor Margaret Blunden, Professor Keith Phillips, Professor Geoffrey Petts. Professor Rikki Morgan-Tamosunas, and Dr Myszka Guzkowska. As well as many colleagues for their valuable contribution including: Mr. Stanley Martin CVO, Sir David Miers KBE CMG, Professor Riad Nourallah, Professor Daryl Copeland, Mr. David Rees, Mrs Rosalie Rivett, Mr. Abdel-Ilah Bennis, Mr. Rob Williams, Professor Jack Lonergan, Professor Michael K. Simpson (President of the American University of Paris, and Professor Ali Fatemi

In addition, many officials from the University of East Anglia, including the Vice-Chancellor Professor Edward Acton, the Dean of UEA London Dr. Richard Harvey , Professor Hussein Kassim, and staff of INTO University Partnerships, including its Chairman Mr. Andrew Colin. and Mr. Martin Halsall, as well as His Exellency. Professor Vincenzo Scotti (President of LINK Campus University in Rome).
Special thanks and appreciation go to Mrs. Fatmah Lallmahamood for her dedication and exemplary service for more than fifteen years.
It is also dedicated to thousands of Alumni who have studied at the Academies.
The Standing of the Academy
In May 2008, the Diplomatic Academy of London,in colaboration with the American Embassy in London and Centre on Public Diplomacy, University of Southern California, organized the Sixteenth International Symposium in the series Diplomacy in the 21st Century. The theme was Transformational Public Diplomacy: Shaping the Future of International Relations During the Symposium Reception which was hosted by Professor Geoffrey Petts, Vice- Chancellor and Rector, University of Westminster & Professor Nabil Ayad, Director, Diplomatic Academy of London comments were made about the standing of the Academy.
Diplomacy in the 21st Century: Sixteenth International Symposium: Closing Dinner >>
Evolution in the Study of Diplomacy
When I started the diplomatic studies programme at the University of Westminster in 1980, Diplomacy was a minor branch of International Relations. Through my efforts and determination, Diplomacy has become a discipline unto itself, and my work at the Academies has been recognised for leadership in the field. Over more than three decades. I have been involved in the training of diplomats (including heads of diplomatic missions) and other government officials from the Commonwealth, the Arab World, Africa, Eastern and Central Europe, the Caribbean, Central Asia and China. Most of these training programmes were sponsored by the British Foreign and Commonwealth Office and the British Council, as well as groups who were sponsored by their own governments. These include China, Kuwait, Iraq, the UAE, Tanzania, Swaziland and Saudi Arabia. In addition, I have advised governments on setting up institutes for diplomatic training and lectured extensively, at various Ministries of Foreign Affairs, Diplomatic Training Institutes and universities in many countries, including, Australia, Russia, Austria, Jordan, Qatar, Egypt, France, Italy, Malta, Kazakhstan, United Arab Emirates, Indonesia, Croatia , Poland ,Thailand, Malaysia, Spain, Uzbekistan, Italy, China, USA, Germany and in the UK (Universities of Birmingham, Reading and Salford). The areas covered have included such relevant topics as: international security, international relations, and the media and the impact of information technology on Diplomatic Missions and Government Departments.
Diplomatic courses and training programmes offered have been valued by the Foreign and Commonwealth Office, British Ministry of Defence, overseas Ministries for Foreign Affairs, Diplomatic Missions in London, international and regional organisations, multinational corporations and individual students for their relevance and focus on career development. Many of the diplomats for whom I have developed training programmes occupy senior positions in their countries as Ministers and Ambassadors; others are working as members of staff for international and regional organisations such as the UN, NATO, EU, the League of Arab States, the media, multinational corporations, defense and security organisations.